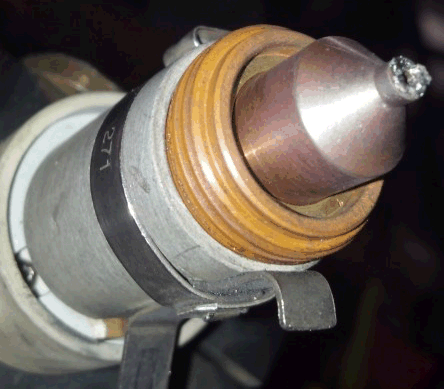 Pierce height and / or pierce delay time are too low / too short. There is nothing else that I am aware of that will do this. Regardless of your settings.....you should physically check pierce height with feeler gauges and if it is too close, then add some height to the book specs to overcome the inaccuracy in your machines surface sensing. Often, plate deflects a bit as well when sensing the surface....then follows the torch back up making the pierce height too close.
One pierce too close will do this to a nozzle. Delay time as well.....if the torch is indexing down from pierce to cut height before the pierce is full through the material...this will happen. If the x or y motion starts before the pierce is fully through, this will happen.
I often will cut 300 to 600 pierces on my cnc with a Powermax85. My cnc uses ohmic sensing and I run the pierce height and pierce delay at exactly book specs. My nozzle and shield stay clean.
Jim Colt Hypertherm