Hey guys, got some requests to make a couple signs for a few hunting businesses. I was wondering what program you usually use to do this? I am fluent in Solidworks and that is about it! I use a Tracker CNC so, I just import a dxf I made in SW and away I go. So I have very little experience with any photo editing software.
Here is 1 of the logo's, this is the easier of the two! I am thinking I can find a font pretty much the same, it is just the European mount skull that I will need help with I think.

The 2nd is a little tougher, again another European skull, but a little more realistic, I can fill in the arrow, and probably the text, but the trees would be awesome if there is a way to convert those almost exact as well.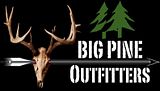 Again, if anyone can just give me some tips so I can try myself that is all I am looking for! However if someone is handy at converting I wont complain LOL!
Thanks,
-Matt