It is currently Sat May 27, 2017 11:55 am
Posts: 45
Joined: Mon Apr 04, 2016 12:01 pm
Location: Chicopee Massachusetts
Contact:
Leon

Plasmacam 4x4
DesignEdge Advanced design software
Advanced height control
Thermal Dynamics Cutmaster42
Miller millermatic 130xp mig
Thermal arc 200 amp tig
---
Elite Contributing Member

Posts: 1301
Joined: Mon Jan 09, 2012 4:30 pm
Location: New Berlin, WI
Contact:
I have not used that make or model but have used others that are on the market. The others are more expensive.
They are usedful for fine finishing and applying different textures. I don't use them for slag removal, etc. They turn pretty slow and the consumables are expensive.
---
I always use a flap disc, but that tool looks pretty handy! You should try it out for us. Ill stay subscribed for your review

hehe
---
Posts: 31
Joined: Thu May 29, 2014 10:30 pm
Location: Germany
Contact:
I use some similar Tools on Stainless Steel.
Use it, to get the finish, if I welding or have scratches in the material.
I have the Expandable Wheel with some abrasive paper rolls in difference Grits, from rought to semi finish,
and a few metal finish drums for the perfect finish.

For mild steel I have also some abrasive paper rolls, to get a nice even finish.
But never us a abrasive paper, that was used on mild steel, on stainless, cause you can get rust on the stainless.

I can upload some Pics, if you want.
---
Elite Contributing Member

Posts: 187
Joined: Thu Feb 09, 2012 6:40 pm
Location: Somerset, PA
Contact:
I use a Metabo Burnisher, but the Eastwood is a 1/3 of the price. I wouldn't mind giving it a try.
-Smitty
Torchmate 4X4 Growth Series w/AVHC
Hypertherm PM45 w/ Machine Torch
Miller Syncrowave 210 TIG
---
This one is at Lowes for $70. I bought one today to give it a try. I'd rather have the Eastwood or Metabo versions, but Eastwood is $100 more, Metabo may as well be made of gold.
https://www.lowes.com/pd/PORTER-CABLE-Restorer-3-5-Amp-Sander/1000127763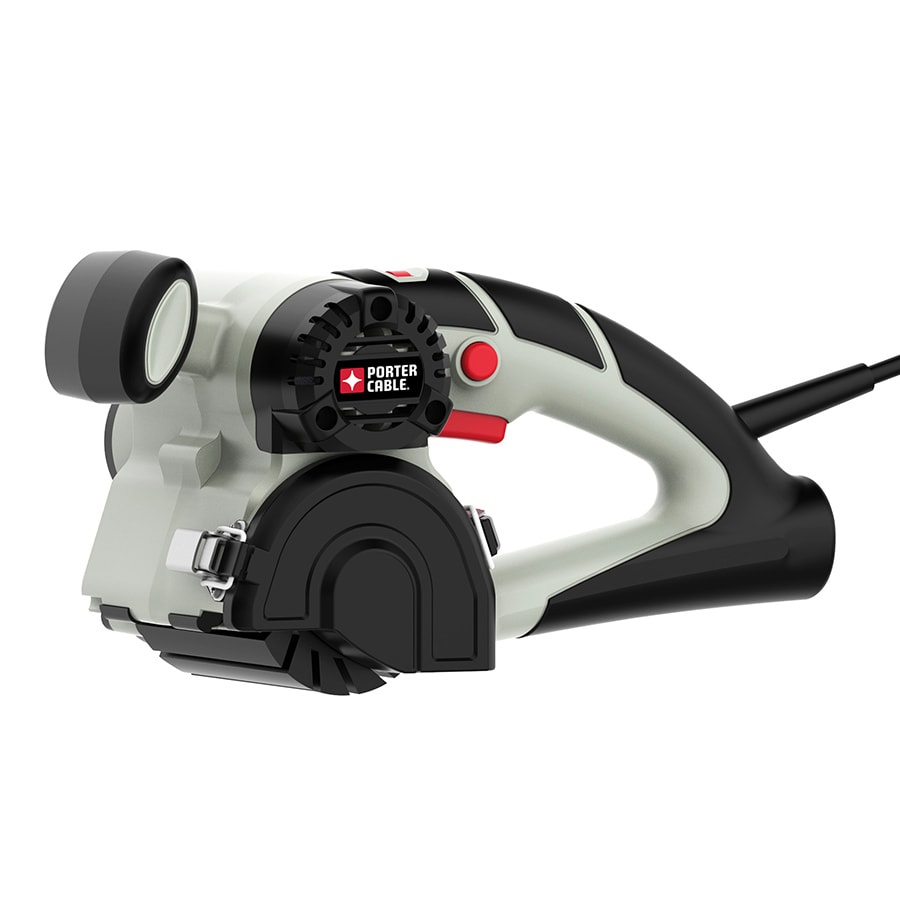 Bulltear 6x12 w/ Proton Z axis & watertable
CommandCNC/Linux w/ Ohmic & HyT options
Hypertherm Powermax 85 w/ machine torch
Solidworks, Coreldraw X7, Inkscape, Sheetcam
---
Elite Contributing Member

Posts: 554
Joined: Mon Dec 26, 2011 8:37 pm
Location: Southeast Missouri
Contact:
Dennis,
Since you've used these, I'll pick your brain. Today we cut a large sign out of 12g hot roll. It was too big for the blast cabinet so I thought about a burnisher to remove the mill scale. Will cleaning around and between the letters eat up a stripping or conditioning wheel pretty quick? Or would a sanding wheel be the way to go? If you or anybody else have any thoughts on this I'd appreciate it. We had been using 12g P&O but now have to switch to hot roll so this is going to be an ongoing problem.

Thanks.
Allen
---
Removing Mill Scale from 12g Hot Roll, just use Muriatic Acid... then RINSE Clean with clear water... The Burnisher will just either eat up EXPENSIVE drums of any sort and the result will suck and it will be SLOW... a Flap disk, 36 grit would be faster than the burnisher but slower and more damaging than the Muriatic Acid, and both abrasive methods will be more expensive than the Acid... Just put the acid in a spray bottle and go to town....
---
Yea, muriatic acid is the ticket. Spray it outside and realize that your spray bottles will NOT last more than one day spraying...the acid just ruins them so get a package of some really cheapies. You may be able to dump the acid back out and spray some backing soda water through them after to save em....but I just get throwaway ones and roll with it. Acid will take the mill scale off in minutes instead of hours grinding and then having to do clean up of the grinder marks. Backing soda water neutralizes the acid after you give it a spray down. Blow dry your work immediately after cleaning or it may start to show flash rust.
Once you take flight, your eyes will forever be turned to the sky." "Lack of appreciation is the worlds biggest crime."
Torchmate 6x14 w/THC Downdraft
Thermal Dynamics Cutmaster 101
Corel Draw / Adobe Illustrator
Torchmate CAD
---
I just bought one of the Eastwood SCT's and I love it. It turns ugly multi colored steel to a nice even brushed shiny surface in minutes. It's a little heavy but it really feels like a quality tool in your hand. Does anyone know if the metabo consumables fit the Eastwood?

If it doesn't last as long as a metabo I'll buy the expensive upgrade. For my use I think it will be fine.

I would definitely like more options for wheels than they offer. If the metabo stuff fits that would be awesome.
---
Elite Contributing Member

Posts: 2572
Joined: Sat Jun 02, 2012 6:04 pm
Location: Pensacola, Fla
Contact:
DIY 4X4 Plasma/Router Table
CandCNC DTHC-IV & Feather Touch
Hypertherm PM65 Machine Torch
Drag Knife and Scribe
Miller Mig welder
13" metal lathe
Small Mill
Everlast PM 256 tig
---
Gamelord wrote:Yea, muriatic acid is the ticket. Spray it outside and realize that your spray bottles will NOT last more than one day spraying...the acid just ruins them so get a package of some really cheapies. .
We use the 1 litre (quart) pump up type spray bottles, about $6 each but get quite a while out of them now. We spray with it most days but have a second bottle with some Sodium Bicarbonate (Baking Soda) and water and just spray some through to kill any acid in the spray part when we're done.
Murray
---
Good morning gents.
I have the german versions Poly PTX and have had them for years, mainly for finishing S/S. There are now several imitations of which Metabo are the closest. In their time these were quite pricey but have provided good service. There is a multitude of comsumables for them now and priced better than before. If you use the right abrasive for the job it lasts quite OK. However the wrong, you can be throwing dollars against the wall. In my opinion this is just another tool for a job, it can make a job easier, however there is more than one way to skin a cat.
---
---
Return to "Abrasive & Texturing"
Users browsing this forum: No registered users and 1 guest