It is currently Sun Oct 22, 2017 8:45 pm

Here is a little something we came up with.
Hope you like it.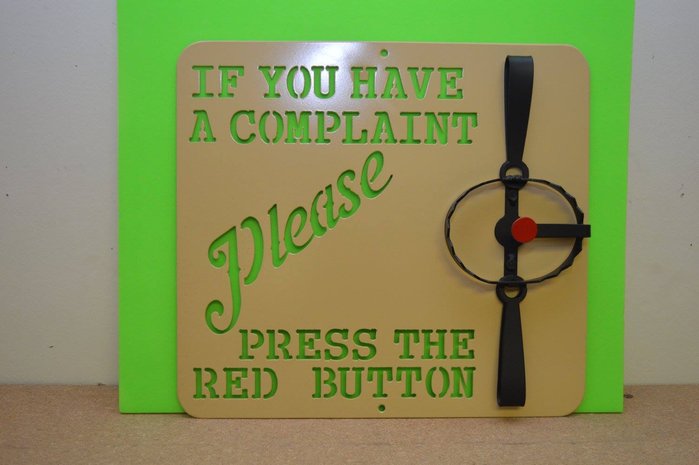 You do not have access to download this dxf file.
Become a Contributing Member to gain access to the thousands of files shared by our members.
Click Here
---
Elite Contributing Member

Posts: 153
Joined: Sun Dec 09, 2012 6:31 am
Contact:
---
Elite Contributing Member

Posts: 2768
Joined: Sat Jun 02, 2012 6:04 pm
Location: Pensacola, Fla
Contact:
I love it very nice to see others creative juices flowing. Great to see the added effort in the trap cutouts too.
Thanks for posting.

DIY 4X4 Plasma/Router Table
CandCNC DTHC-IV & Feather Touch
Hypertherm PM65 Machine Torch
Drag Knife and Scribe
Miller Mig welder
13" metal lathe
Small Mill
Everlast PM 256 tig
---
Very clever design.
How did you assemble the trap? Since it's all painted, I assume some sort of tape.
---
Elite Contributing Member

Posts: 205
Joined: Sun Jul 06, 2014 2:21 pm
Contact:
That's great, thank you.
PlasmaCam DHC 2 4 X 4 table
Powermax 65
Illustrator CS6
400 amp mig welder with dc tig
CRP Bench Top Pro
VCarve Pro, Mach 3
Bridgeport
Wells Index mill
10K X 42" Southbend, 6K collets
16" Sothbend, 5C collets
16" Hendy lathe
---
Posts: 110
Joined: Mon Oct 18, 2010 3:22 pm
Contact:
Very cool! I' m looking at about 50 traps that my father in law gave me.
Thanks
i_r_
---
Elite Contributing Member

Posts: 1261
Joined: Mon Mar 02, 2015 10:38 pm
Location: Cherryville NC
Contact:
OH NO! Not again. You got me one time on that. Get me one time shame on you, get me the second time shame on ME!




Love the file 34 chev
Rick
Rick
Arclight 9600 4x8 table
Hypertherm PM65
Acc. Plate Marker, 4 inch Pipe Cutter, Wood Router package
Quincy Q54 compressor 2 stage, 5hp, 60 gal
Refrigerated air dryer & 4 stage filtration system
Software Mach 3, Sheetcam, Solid Edge 2D, Inkscape
---
Elite Contributing Member

Posts: 82
Joined: Sun Sep 04, 2016 2:10 pm
Location: Thabazimbi South Africa
Contact:
Thanks for sharing, that will stop them cold



Just going to to replace complaint with question


Plasmacam 4x4 DHC2 Table
Design Edge 4.36 Advanced Design
Advanced Height Control
Hypertherm PM 65
Mac Afric Cut 40 Plasma
Mac Afric Mig 195
Mac Afric Tig 200A
Thermax DC 200
Fulgor Butt Welder
13" Metal Lathe-Milling Machine
Rong Fu 25 Mill
---
Elite Contributing Member

Posts: 202
Joined: Sun Jan 22, 2012 5:39 pm
Contact:
Clever. Gonna have to make one now. Thanks
K D Metal Werks
PlasmaCam DHC2
Hypertherm Power Max 45
Hobart Handler 190 Mig
Niagara 3"x 36" Slip Roll 14ga
Driess/ Krumph 4' box & pan brake 16ga
Hossfeld #2 Bender Ridgid 700 threader
Pexto 137-1 16ga. Stomp Shear
MADE IN USA
---
---
---
Return to "DXF Art - DXF Clip Art File Sharing Forum"
Users browsing this forum: Google Adsense [Bot], newtcat, perry365 and 18 guests