On several occasions I've cut 3/8" or 1/2" material with electrode/nozzle that I assume to be good (new, little use, no blowouts, etc), only to find an unacceptable taper on the finished part. Usually it's a "parallel" taper...good finish on 2 sides, the other 2 sides are tapered in the same direction. After swapping around electrodes/nozzles/swirl rings/shields (after confirming the torch is still solidly mounted/hasn't shifted), and a couple of test cuts, I find a good combo with no taper. I then proceed to cut (or re-cut) the job. It's the 2nd example in this photo..."unequal" bevel: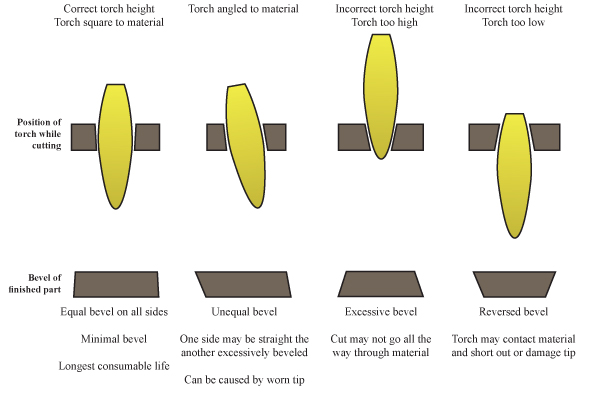 I'm curious...do you guys just throw thicker material up on your table, cut away, and have quality cuts? Or do you deal with this issue as well? Do you put a test cut in every sheet, just to make sure you won't have taper issues? I've found I can't rely solely on new components...I found a brand new electrode was the reason for the offset taper on one of my cuts. Replaced it with another new electrode, and the cut went fine. Swapped electrodes back on the next (thin) job, and found the offset taper had returned. Brand new electrode.
I've spent the past many months working primarily in gauge material. If I ran into a taper issue, I could usually run a flap wheel along the edge to correct it. I can now watch the cut part, and see if I need to raise/lower the THC voltage, to make up for a worn electrode. When an electrode/tip becomes too worn for "fine" work, I usually shift it to "artsy use only", until it's time to trash it.
Gauge material is cheap, however, compared to sheet. If taper ruins a 14ga part, it's not the end of the world (and it can usually be corrected with a flap wheel or dremel). Minutes to fix, and the whole SHEET costs $50. I don't want to start wasting any sheets, though, when I'm talking 3/8", 1/2", etc material. Hell, it's an ordeal for me to simply load them...mush less waste a part, and potentially have to load another sheet of it.
I've checked to make sure my torch is square to gantry, and it is. I've wondered if this can be an issue due to worn/rough slat tops affecting the material...perhaps it's not setting flat on the table? While I use whole sheets of gauge material, I often use smaller sections of plate material, for ease of handling. These shorter lengths (sometimes only 3-4 slats wide) would be more prone to slat height issues, I think, than a full a sheet. A full sheet would probably "average" it out.
My work load may be shifting from predominantly gauge material, to a large percentage of plate material. As such, I'd like to figure out these taper issues. Input on the issue would be appreciated.